20th Annual WICC Ontario Learning Breakfast for Cancer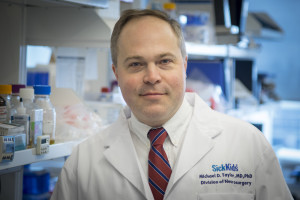 The Annual WICC Ontario Learning Breakfast for Cancer is entering its 20th year.  The primary objective of the breakfast is to provide information that will help guests achieve a better understanding of cancer and its effect on our lives.  We are very pleased to welcome Dr. Michal Taylor MD, PhD, FRCS(C) as this year's special guest speaker.
Dr. Michael Taylor is The Garron Family Endowed Chair in Childhood Cancer Research and a paediatric neurosurgeon at the Hospital for Sick Children; his special focus is on paediatric neuro-oncology. He is a principal investigator in The Arthur and Sonia Labatt Brain Tumour Research Centre and is a Senior Scientist in the Hospital for Sick Children Research Institute. Dr. Taylor is also a Professor in the Department of Surgery and in the Department of Laboratory Medicine and Pathobiology at the University of Toronto. His research interests centre on the molecular genetics of medulloblastoma and ependymoma, two of the most common malignant paediatric brain tumours.
Dr. Taylor has published over 250 peer-reviewed publications, many in high impact journals such as Nature, Science, Cell, Cancer Cell, Nature Genetics, and Lancet Oncology. His publications have been cited more than 19,000 times by other authors and his findings have been adopted to improve clinical practice. His group demonstrated that medulloblastoma is comprised of at least four distinct diseases (Journal of Clinical Oncology, 2012; Cancer Cell, 2017; Nature, 2017) and that there is clinically significant heterogeneity in metastatic medulloblastomas (Nature, 2012, 2016; Nature Genetics, 2017). His team also showed that epigenetic mechanisms (both DNA CpG methylation and histone post-translational modifications) are important in medulloblastoma and ependymoma biology, and can serve as novel drug targets for rational therapy (Nature, 2014). Dr. Taylor has been recognized for his research contributions with numerous awards including the Royal College of Physicians and Surgeons of Canada Gold Medal Award in Surgery, and CIHR's Brainstar Award.
DATE:
Tuesday November 7th 2017
TIME:
7:00am - 7:30am Arrival & Seating
7:30am - 7:45am Breakfast is served
7:45am - 9:00am Breakfast presentation
LOCATION:
Canadian Room Ballroom
The Fairmont Royal York
Toronto, ON
TICKETS:
$50 per person + HST
$500 for Table of 10 + HST   *** To register for a full table select 10 tickets from the drop-down.
To volunteer at this event click here for details
Platinum Level - $3,000.00
•  Primary Overall Event Sponsor
•  Individual Sign recognition at Fairmont Royal York ballroom entrance
•  Prominent mention in event speech
•  Prominent recognition in Presentation slides
•  WICC social media blast prior to event including Facebook, Twitter and LinkedIn
Gold Level - $2,000.00
•  Sign recognition at Fairmont Royal York ballroom
•  Prominent recognition in Presentation slides and event speech
•  WICC social media blast prior to event including Facebook, Twitter and LinkedIn
Silver Level - $1,000.00
•  Sign recognition in Fairmont Royal York ballroom
•  Recognition in Presentation slides
•  WICC social media blast prior to event including Facebook, Twitter and LinkedIn
Bronze Level - $500.00
•  Recognition in Presentation slides
For more information regarding available Sponsorship Opportunities please contact Donna Cassidy 416.359.3280 or dcassidy@chubb.com