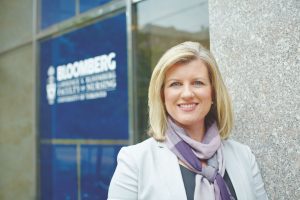 Please join us as we host our 21st Annual Learning Breakfast at the elegant Fairmont Royal York on Wednesday November 7th, 2018.   In past years, this educational event has seen several hundred insurance professionals coming together for a delicious breakfast with colleagues while listening to guest speakers discuss cancer in its many forms. The primary objective of the breakfast is to provide information that will help guests achieve a better understanding of cancer and its effect on our lives.  It is this laudable industry support at their events which have allowed the WICC to achieve notable success in their campaigns.  We are very pleased to welcome Dr. Kelly Metcalfe as this year's special guest speaker.
The Women in Insurance Cancer Crusade (WICC) will be educating our guests on "The Screen Project".  The Screen Project is a Canadian National initiative to make BRCA1 & BRCA2 screening available to all Canadians over 18 years of age at an accessible price.  See thescreenproject@wchospital.ca for more details.
DATE:
Wednesday November 7th 2018
TIME:
7:00am – 7:30am Arrival & Seating
7:30am – 7:45am Breakfast is served
7:45am – 9:00am Breakfast presentation
LOCATION:
Concert Hall Room (*please note the change of room from previous years)
The Fairmont Royal York
Toronto, ON
TICKETS:
$60 per person + HST
$600 for Table of 10 + HST   *** To register for a full table select 10 tickets from the drop-down.
To volunteer at this event click here for details
Diamond Level – $3,000.00
•  Primary Overall Event Sponsor
•  Individual Sign recognition at Fairmont Royal York Concert Hall entrance
•  Prominent mention in event speech
•  Prominent recognition in Presentation slides
•  WICC social media blast prior to event including Facebook, Twitter and LinkedIn
Platinum Level – $2,000.00
•  Sign recognition at Fairmont Royal York Concert Hall
•  Prominent recognition in Presentation slides and event speech
•  WICC social media blast prior to event including Facebook, Twitter and LinkedIn
Gold Level – $1,000.00
•  Sign recognition in Fairmont Royal York Concert Hall
•  Recognition in Presentation slides
•  WICC social media blast prior to event including Facebook, Twitter and LinkedIn
Silver Level – $500.00
•  Sign recognition in Fairmont Royal York Concert Hall
•  Recognition in Presentation slides
Bronze Level – $300.00
•  Sign recognition in Fairmont Royal York Concert Hall
•  Recognition in Presentation slides
For more information regarding available Sponsorship Opportunities please contact Donna Cassidy 416.359.3280 or dcassidy@chubb.com
November 7, 2018




7:30 am - 9:00 am